Bell Selkie Lovelock, Wild Mind Guide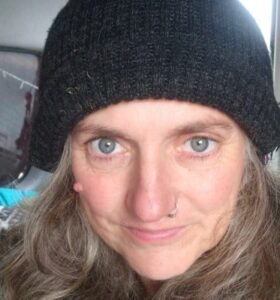 Bell Selkie Lovelock  has been rooting into Cymru for 26 years, rewilding alongside 40 acres of ex- chemical dairy land in a multi- species cooperation called Daear Ydym ni!/We are Earth! Courting the edge where the worlds meet, she resecrates (restores to sacredness those who have been desecrated) land, people, rivers, trees , practices of living, language… Resecrating is the creation of a new indigeny and she has been weaving together hearth and soul for 25 years , with much practical experience of creating strong physical, emotional and cultural " baskets" in which folks can unravel in order to tend to and make sacred the wounding that is everywhere. With a powerful seeing into the heart of ( what) matters, she re-members the wildness of individuals ,places, and cultures and flows between the high tide of  joy and the low tide of grief, between the source and the sea.
Her work with individuals and groups , Bewilder, is inspired by Bill Plotkin  and Animas Valley Institute with whom she's a member of the guild of Wild Mind guides. She also leans into 18 years experience of counselling and life coaching, home educating six children, co-founding and living in housing co-operatives and an organic farm co-operative, bee-keeping, non violent direct activism for earth, witchcraft and the casting of wordspells as a poet/writer.