The Wild Mind Training Residential – February, 2023
February 27 - March 3, 2023
With Brian Stafford, MD, MPH and Laura Gunion
This year's residential is limited to trainees in the Wild Mind Training Program only. Please note you must be enrolled in the Wild Mind Training Program to register for this residential. You can find more information about the WMTP by clicking here.

NOTE: All Wild Mind Trainees will receive a link to register for this program from the WMTP Director. Please reach out to them if you have not received it. 
The Wild Mind Training Residential is the core of the Wild Mind Training Program steeped in the Nature Based Map of the Human Psyche. In this 5-day training, participants hone their skills in listening, tracking, deepening, mirroring, and creating invitations to help others cultivate their wholeness and heal their wounded and fragmented subpersonalities. We also practice the skills of council, dreamwork, and Shadow work, and further develop our understanding and use of the Nature Based Map of the Human Psyche. Included is an introduction to the use of the Soulcentric Developmental Wheel.
Designed for human development guides, the WMTP is a professional training in the use of the Nature-Based Map of the Human Psyche to support others to cultivate their innate wholeness and to acquire the skills of Self-healing.
The objectives of the Wild Mind Training Residential are to:
provide training in the NBMHP model and in the skills of facilitating nature-based wholing and Self-healing
support trainees in their personal cultivation of wholeness and Self-healing
support the career development of professionals called to guide others toward wholeness. (Note that the WMTP is not a training in underworld guiding. Learning to facilitate the descent to soul is the mission of Animas' Soulcraft Apprenticeship and Initiation Program — SAIP) An application and acceptance into the Wild Mind Training Program is required for this Residential.
Continuing Education Credits are available for an additional fee. Please inquire.
As author Gary Snyder notes, "To speak of wilderness is to speak of wholeness." To have a wild mind is to have a wholemind. People with wild minds are those who have cultivated and embodied their innate human wholeness — the full rainbow spectrum of capacities, talents, and sensibilities that constellate our evolutionary birthright.
~ Bill Plotkin
We invite participants to arrive at the Lake Casitas campground the evening before we commence (February 26th) to get settled.
TAFT GARDENS, OJAI, CALIFORNIA
With maintained paths and seating areas, the 15 acres of curated gardens inspires visitors to learn about the majesty of nature and it's complexities. Hand painted botanical tiles mark the path of the Docent Guided tour through the South African and Australian Gardens. Sculptures adorn the garden with curated art pieces inspiring each visitor to explore the connection between themselves and their environment.
Guides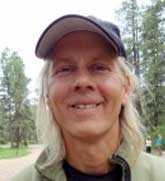 Brian Stafford, MD, MPH
Brian Stafford is a guide to the wilderness of nature and soul. He was called out of academic medicine to serve as a guide to the depths and to serve as an agent of cultural awakening and transformation. He guides with humor, playfulness, compassion, discernment, and a deep remembering of the fullness of what each human life can, should, and was meant to be. A native of Colorado and the former holder of an endowed chair and professor of psychiatry and pediatrics, he is an avid outdoorsman, teacher, writer, mentor, partner, and parent. He guides individuals and groups in the…
Learn more about Brian Stafford, MD, MPH
Laura Gunion
Laura believes that humans have tremendous potential, much of it hidden and unconscious. As a mentor, wilderness guide and naturalist, it is both her privilege and responsibility to support others as they encounter their true nature. She feels it's essential that we grow, not only for ourselves, but also to create cultures that will benefit future generations. She insists on bringing the soulful and sacred into daily living. Her curiosity, acute listening, and precise questioning support people in living boldly and courageously. Laura has been a mentor at Wilderness Awareness School since 2002, and continues to love instructing at their…
Learn more about Laura Gunion