Coming Home to an Animate World: A Way of Ceremony and Conversation – April, 2023
April 18 - 22, 2023
With Palika Rewilding and Sage Magdalene
An Underworld-Focused Immersion – Application Required (Application deadline is March 5, 2023)
This is primitive camping program.
Coming Home to an Animate World: A Way of Ceremony and Conversation is one of our most exhilarating and imagination-expanding intensives, and it's foundational to all the work we do at Animas. Think of this intensive as a green doorway, an opening to a wilder consciousness shaped by forest and owls, clouds, cliff and dreams — a passage from a lifeless universe to a cosmos breathing with mystery and invitation, singing and crying in a jillion tongues. Come gather with other Earth lovers, forest whisperers, and visionary coyotes to honor the Others with ceremony and conversation.
When we address the beings of the world as if all are alive, intelligent and suffused with psyche, our lives shimmer with profound richness, depth and mystery. When we engage in conversations with sacred Others – whom we might know as stone, river, owl or pinyon, or as a figure from a dream, or as soul, anima, beloved or muse, or simply as world – we dip into the deep stream of our life: the soulful, mythopoetic story that flows beneath the surface of everyday consciousness.
We will tend the holy mystery at the core of our lives with soulful practices and ceremonies designed to arouse our conversations with the Others — in both their luminous and shadowy guises. These conversations might include song, symbol or poetry, dream or dance, expressive art or lyrical gestures, or something else utterly unique to you. The Milky Way Galaxy and ancient ocean will help support us in an experience of what ecophilosopher Joanna Macy calls "deep time" — a felt-sense of our embeddedness in the cosmic and Earthly unfolding of life. We'll bring greater awareness to the conversation we're already having (whether we know it or not) with the embodied and numinous Others. And we'll bring greater consciousness, as well, to tending the conversation with our human and other-than-human ancestors, and with the generations that follow our own – as if our ceremonies and conversations matter not only to the present, but also to the evolving Earth story.
The guides will help you track themes, archetypal images, patterns, and numinous encounters from both your dayworld and nightworld (dream) experiences, and then offer deliciously alluring (or perhaps exquisitely challenging) invitations for you to more deeply participate in conversations with the Others with whom we share the world. Self-designed ceremony (with assistance from the guides, if you like) will help deepen the atmosphere for your encounters with Mystery — in the wild, symbolic, poetic, image-rich language of Mystery. Perhaps a sacred Other will flirt with you, or perhaps she (or he, or it) will throw off her mossy robes and show you a glimpse — or a full view — of the precious treasure that you, and only you, carry as an offering to your people, an essential offering to the world's evolving story.
This intensive is designed for change-agents, artists, educators, poets, therapists, and others seeking immersion in the intertwined mysteries of nature and psyche; for those longing for greater depth of connection with the Others with whom we share both the phenomenal and imaginal worlds; for those longing to ceremonially tend the temple of the holy Earth; and for those with curiosity about soul in a participatory, animate cosmos.
We invite participants to arrive to the camping area the evening before the program commences (April 17th). 
PLEASE NOTE: THE SAN JOSE AIRPORT is the closest to this program location. This is NOT the Los Padres National Forest outside of Santa Barbara or Los Angeles. This part of the Los Padres NF is in Monterey County, CA. The entrance gate to this location is 2.5 hours from San Jose, CA airport.
LOS PADRES NATIONAL FOREST, MONTEREY COUNTY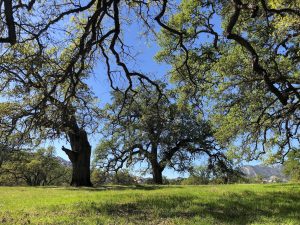 Recover your deepest meaningful entanglement with Mystery and the Web of Life, in the iconic interior landscape and rolling spring green of the  towering Valley Oak coastal foothills in Central California. This land is home to diverse beings of Earth's creation: ancient limestone outcroppings and exposed bedrock, golden poppies, lupines, mistletoe, bluebirds, redtail, magpies, wild hare, bobcat, elk, mountain lion, mission blue butterflies and singing creeks among many. The closest airport is San Jose, California.
Guides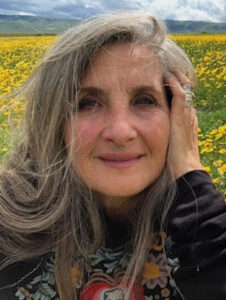 Palika Rewilding
Palika Rewilding has been courting the moon and the wild miraculous blue green pearl to center their ancient Mysteries in our culture and marry her living to them as long as she can remember. As Threshold Midwife she listens and tends the edges and holy cracks for pearls and shadowed gems within the individual and collective psyches and hearts of humanity who ache with longing to recover enchantment with Earth. Tending with compassion, creativity and fierce love she calls forth the Soul sojourner to reciprocity with the Web of Life, in cocreative response ability with the Animate Earth. Palika is…
Learn more about Palika Rewilding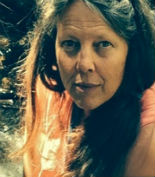 Sage Magdalene
Sage has a gift for hearing and reflecting the deep stories of many beings. She invites people to thresholds and opens gates between worlds. She has been an educator, artist, dancer, and gate keeper in many ecosystems. Her greatest joy is to hear and converse with the wild others: moon, spider, frog, human, river and stars. She brings a light touch and embodied wisdom to the serious work of transformation.
Learn more about Sage Magdalene