Wild Mind Intensive – June 2023, Cymru (Wales)
June 29 - July 3, 2023
With Sara McFarland and Bell Selkie Lovelock, Wild Mind Guide
Please contact our Program Producers in the United Kingdom for more information at: [email protected]
Based on Bill Plotkin's book, Wild Mind: A Field Guide to the Human Psyche, this 5-day intensive is an experiential exploration of our human psyches as unique expressions of the universal forces and patterns of nature. We will work with what we call the Nature-Based Map of the Human Psyche, which is, among other things, a comprehensive inventory of what can be right about a person, a "shadow" version of the Diagnostic and Statistical Manual (DSM), mainstream psychology's list of what can go wrong with people.
Our wild minds possess astonishing resources, untapped potentials and depths that we might not even know exist until we discover how to access them, cultivate their powers, and eventually integrate them into our everyday lives. In this intensive, we'll access these depths and potentials — which we call the four facets of the Self, or the four dimensions of our innate human wholeness — and also the four sets of fragmented or wounded subpersonalities that form during childhood.
Rather than attempt to eliminate our subpersonalities (which is not possible) or to beat them into submission, we'll cultivate the four facets of the Self and uncover the gifts of our subpersonalities. Our goal is to fully embody our multifaceted wild minds, commit ourselves to the largest, soul-infused story we're capable of living, and serve the greater Earth community.
Discover:
how to recognize and consciously cultivate the four facets of the Self — your innate human wholeness
how to identify the subpersonalities that supported you in childhood and adolescence to adapt to the challenges of family and social life, but ultimately became barriers to your full and authentic humanity
practices and guidelines for cultivating relationships between the Self and your subpersonalities, enabling you to heal your subpersonalities, discover their gifts, and foster Self-actualization
how each facet of the Self provides essential resources for the underworld journey (the descent to soul), its radical transformation of personal identity, and for living as a visionary artisan of cultural evolution.
We'll explore the landscape of the psyche through a variety of practices, including creative expression, self-designed ceremony, solo exercises while wandering on the land, group work, movement, voice dialogue, journaling, and deep imagery work.
Please contact our Program Producers in the United Kingdom for more information at: [email protected]
NOTE: Some scholarship monies are available, please mention your need on the bookings form and we'll get back to you about it.
SPIRIT HORSE, WALES
We, Bell Tideseer and I, Sara Hologram Heart, are inviting you to deepen into your own wild mind, heart and body this summer  in  Cymru, known today as Wales, to the land currently inhabited by the community of Spirit Horse, from their website (www.spirithorse.co.uk), "Spirit Horse is a wild retreat centre, a village of Celtic roundhouses, yurts and tents, waterfalls, sacred fires and temples, cradled in 200 acres of Welsh forest returning to its wild nature. We gather at our mountain retreat in the summer times, becoming an evolving community of tribal ways, where the ancient soul has a place by the fire."
In the words of my dear Co-Guide, Bell Selkie "So dear ones, the lands of Cymru ( Come-ree) are calling to you..I am wanting to introduce you to this land a little, so you come at least knowing her older name. The English name Wales means "the land of the foreigner". As Y Cymry ( The Welsh ) have been found to be the most indigenous inhabitants of the British Isles, you are invited to disperse this little bit of propaganda / amnesia of colonisation by calling this place Cymru when you remember to.. There is an ancient conversation between humans and place here that lives on through language. Cymraeg ( Welsh) is considered to be one of the oldest in Europe with words that can't be directly translated into English referring to our ancient kinship connections with the other-than-human world.
And she continues from the present Winter of Cymru whispering to her…
"If these things be done in the bare tree, imagine what will be done in the green !"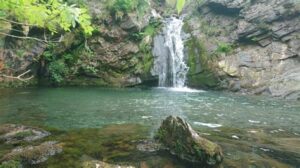 The branches are bare here in Cymru and, as the light returns after solstice and the shadows of samhain recede, we see more clearly the lay of the land. This is where we are, this is what needs to be done. The tradition of new years resolutions, now rather maligned, is perhaps a remnant of that far seeing vision we can have at this time of year..a vision informed and enriched by the fertile void we have just emerged from at Yule and enlivened by the suns rebirth.
As bulbs nudge their shoots into daylight and hazels trust their catkins to cold caresses of north wind, here we are..slowly moving towards a time on the land when the trees are budding and the flowers are smiling and the rivers and waterfalls are sparkling with late spring light.
All of it is waiting for your open ears and your seeking heart, the land is calling you down to your roots, to your deepest truth.
We are waiting for you at the hearth fire in these wild indigenous speaking lands, to welcome the soul language of your own knowing, to discover or deepen your relationship with your own wild mind. You are welcome…
Guides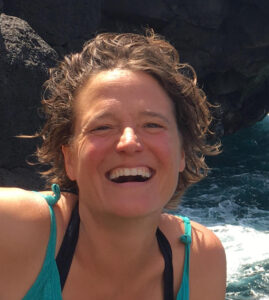 Sara McFarland
Sara (she/they) is a healer of the Golden Web of Life, an Edgewalker singing the Frequencies of Soul, a ritualist in reciprocal relationship with the Holy in the Wild. As an improvisational singer, SoulStoryteller, and guide, she creates Fire Silk and Dreams Earth's Web, in order to weave paths of golden threads into the underworld and between the worlds for others to follow. She tracks the Life – Death – Life energy of transformation and serves as a Death Doula to that which is dying- both in the personal as well as the collective. She is a Queer, both/and creature,…
Learn more about Sara McFarland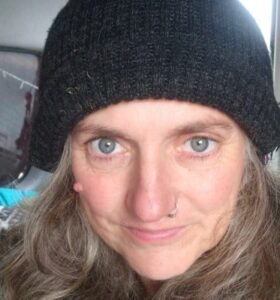 Bell Selkie Lovelock, Wild Mind Guide
Bell Selkie Lovelock  has been rooting into Cymru for 26 years, rewilding alongside 40 acres of ex- chemical dairy land in a multi- species cooperation called Daear Ydym ni!/We are Earth! Courting the edge where the worlds meet, she resecrates (restores to sacredness those who have been desecrated) land, people, rivers, trees , practices of living, language… Resecrating is the creation of a new indigeny and she has been weaving together hearth and soul for 25 years , with much practical experience of creating strong physical, emotional and cultural " baskets" in which folks can unravel in order to tend to and make sacred…
Learn more about Bell Selkie Lovelock, Wild Mind Guide