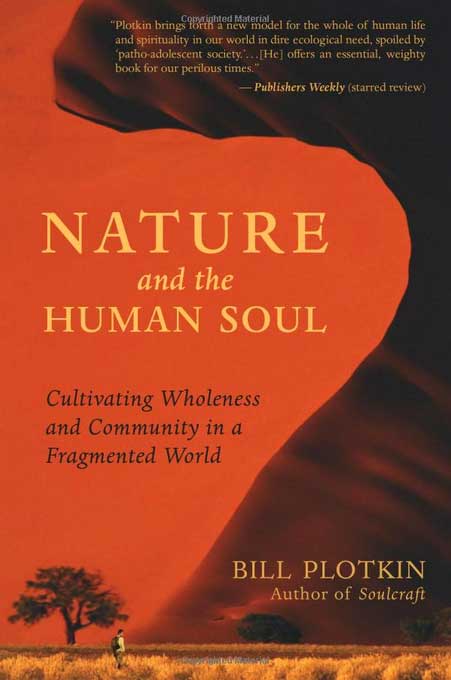 About the Book
Addressing the pervasive longing for meaning and fulfillment in this time of crisis, Nature and the Human Soul introduces a visionary ecopsychology of human development that reveals how fully and creatively we can mature when soul and wild nature guide us. Depth psychologist and wilderness guide Bill Plotkin presents a model for a human life span rooted in the cycles and qualities of the natural world, a blueprint for individual development that ultimately yields a strategy for cultural transformation.
If it is true, as Plotkin and others have observed, that we live in a culture dominated by adolescent habits and desires, then the enduring societal changes we so desperately need won't happen until we individually and collectively evolve into an engaged, authentic adulthood. With evocative language and personal stories, including those of elders Thomas Berry and Joanna Macy, Nature and the Human Soul describes how to raise children who are in love with life and learning; how to help teenagers develop personalities that are not only socially successful but also authentic and deeply imaginative; how to grow into a fulfilled, soulful adulthood contributing unique gifts to the greater Earth community; and how to mature into a genuine elderhood of wisdom and cultural leadership. Bill Plotkin guides every reader, stage-by-stage, on the journey toward wholeness and an active, contributing engagement with the world.
Nature and the Human Soul describes the challenges and benefits of the eight nature-and-soul-centered stages of life. Each stage is illuminated by the pairing of a human archetype with an Earth archetype: the Innocent in the Nest (early childhood), the Explorer in the Garden (middle childhood), the Thespian at the Oasis (early adolescence), the Wanderer in the Cocoon (late adolescence), the Soul Apprentice at the Wellspring (early adulthood), the Artisan in the Wild Orchard (late adulthood), the Master in the Grove of Elders (early elderhood), and the Sage in the Mountain Cave (late elderhood). Following a discussion of how Western society fails to provide adequate support for any of the stages of human development, Plotkin goes on to offer practices and principles that assist the reader to ripen into a more complete and genuine adulthood and eventually an elderhood of wise caring for the more-than-human world.
Based on nature's cycles and on the developmental patterns of the healthiest 15 percent of Western people, Nature and the Human Soul helps every reader discover and embody their potential and personal destiny. Equally important, Plotkin offers us a way to progress from our current egocentric, aggressively competitive, consumer society to an ecocentric, soul-based one that is sustainable, cooperative, and compassionate. At once a primer on human development and a manifesto for change, Nature and the Human Soul fashions a template for a more mature, fulfilling, and purposeful life — and a better world.
Click HERE for activities that help you more fully experience your current soulcentric stage — by supporting you to take your next steps with the developmental tasks of your stage and also to address the tasks of the stages preceding yours.
Listen to the Introduction
Praise for Nature and the Human Soul
"Offers a consolidated and invaluable template for psychological and social development — not only personally, but collectively as well. . . . Brilliant, insightful, and masterful."
— Angeles Arrien, PhD, cultural anthropologist and author of The Four-Fold Way and The Second Half of Life
"With Nature and the Human Soul, Bill Plotkin once again works miracles. This vital book provides a road map to help us remember how to be human — which means how to be a human being in relationship to the natural world, to our home. We owe Bill Plotkin a deep debt of gratitude for this important work."
— Derrick Jensen, author of A Language Older Than Words and As the World Burns
"In Nature and the Human Soul, Bill Plotkin draws from myth, diverse cultural forms, and personal insight, and produces a convincing map of our psychosocial life stages. To understand these developmental phases of our journey is to better appreciate their differing tasks, and perhaps better cooperate with their archetypal agendas."
— James Hollis, PhD, Jungian analyst and author of Finding Meaning in the Second Half of Life
"Bill Plotkin enhances our grasp of the stages of life we are born to pass through by weaving into them themes of meaning, soul, and spirituality. This is a rich offering not only to the field of psychology, but to a world torn from its roots."
— Chellis Glendinning, PhD, author of Off the Map and My Name Is Chellis and I'm in Recovery from Western Civilization
"C.G. Jung, Joseph Campbell, Mircea Eliade, Father Thomas Berry, Julia Butterfly Hill, Joanna Macy. These are but a few of the bright visionaries who have helped us to understand the territory of the human psyche in its relation to the realm of myth, the profundity of cosmology, and the ancient human love affair with the natural world. In Nature and the Human Soul, Bill Plotkin joins their ranks by masterfully weaving luminous streams of insight and guidance, offering us new tools and maps. These potent maps not only hold the promise of personal transformation but they may very well be a path toward our survival as a species."
— Frank MacEowen, author of The Celtic Way of Seeing
"Brilliant, accessible, respectful and compassionate, Nature and the Human Soul weaves a practical path for anyone, from any culture, to become whole, leading a soul-centered life that will benefit themselves and everyone and everything around them. Science, as currently practiced, can only tell us what is. Nature and the Human Soul shows what could be (and should be). There is an old adage that when the student is ready, the teacher will appear. The publication of Nature and the Human Soul may well signal that humanity is ready to learn a better way. It should be read by everyone, particularly those who choose to be parents, educate our children, guide our cultures and communities, and envision a better world."
— Dan Popov, PhD, cofounder of The Virtues Project and coauthor of The Family Virtues Guide
In his magnum opus more than 25 years in the making, psychologist, eco-therapist, and wilderness guide Plotkin (Soulcraft) brings forth a new model for the whole of human life and spirituality in our world in dire ecological need, spoiled by "patho-adolescent society." Beginning fittingly with elder eco-sage Thomas Berry, Plotkin calls us to a fresh circular conception of individual and collective evolutionary life genuinely reconnected to the wild of nature. Using the indigenous template of the four compass directions, his eight stages on the wheel of spiritual development are the Innocent, Explorer, Thespian, Wanderer, Soul Apprentice, Artisan, Master and Sage. "The Wheel is a deep-structure portrait of nature-and-soul-oriented cultures, a portrait that encompasses child-raising practices, core values, stages of growth, rites of passage, community organization, and relationship to the greater Earth community," he writes. Leaning heavily on psychology, Plotkin also draws upon a heavenly host of the rich sources that inform a lifetime including poetry, global cultures and much more. Graceful prose is counterbalanced with diagrams and clear chapter structure. Plotkin offers an essential, weighty book for our perilous times.
—Publishers Weekly, starred review (October 15, 2007)