Rocky Mountain Advanced High Country Quest – August 2022
August 4 - 15, 2022
With Rebecca Wildbear, M.S. and John Lynch, M.A.
THE ADVANCED ANIMAS QUEST – This is an All Camping & Backpacking Quest.
This advanced quest is designed for those who are already immersed in their soul-discovery journey and prepared for an encounter with soul. This program is not focused on healing, but rather on the underworld journey of soul encounter. This is a courageous journey into the mystical depths of the soul and of the heart, there to gather the images, symbols, and threads of our individual mythopoetic identities.
This contemporary Western embodiment of the ancient, pan-cultural vision fast is a dynamic wilderness rite for men and women seeking greater depth and clarity about life purpose and meaning. As a rite of initiation, the quest is a ceremonial descent to the underworld, in which you die to your familiar way of belonging to the world, uncover the passion and wisdom of your soul, and retrieve the gift that is yours alone to bring to the world, enhancing personal fulfillment and genuine service.
The Animas Quest catalyzes the encounter with soul by temporarily displacing everyday consciousness through five primary means: (1) solitude for three or four days and nights while (2) fasting (i.e., drinking water only), (3) being fully exposed to and enfolded within the forms and forces of nature, (4) enacting a series of ceremonies, and (5) employing a set of practices (soulcraft) that support you in crossing into the mysteries of nature and psyche.
Most often, our quests take place over a total of 11 days, 8-11 of which are spent in the wilderness. Preceding your time of solitude are five full days of preparation activities that enhance your ability to benefit from the fast. The first two and a half days of these five may be held at a car-camp before we journey to our wilderness base camp (or, on some programs, remain at our car-camp).
During the five preparation days, we work with dreams, poetry, deep imagery, ceremonial drumming and dance, dialogues with nature, the way of council, and other practices to help us slip out the door of our everyday lives and access our own deeper, wilder currents.
The heart of the quest consists of the solo: three days and nights without human companionship in nature, fasting, engaging in personal ceremonies, saying yes to the mysteries of soul, tending the true mythos of your life, praising and grieving, and birthing a vision. Upon your return to base camp, there are three days of reincorporation activities, preparing you to embody among your people what you received on your fast. The last of these three days takes place back at base camp.
This is a backpacking Quest, however no previous backpacking experience is required (in fact, many of those who have quested with us have never before been camping or backpacking!).
We ask that couples, family members, or friends not attend this program together.
Participants will meet for a two hour gear check on August 4th. The actual quest will begin on August 5th.
UNCOMPAHGRE NATIONAL FOREST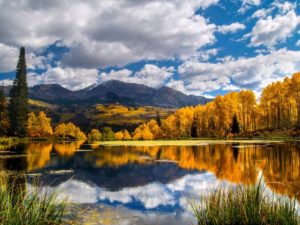 Uncompahgre Forest offers scenery and an abundance of opportunities. Over three thousand miles of trails and routes provide access to areas of rugged beauty and solitude. Many were carved by indigenous peoples, early explorers, and miners, and offer an experience that connects users to the land and to the past. The mountains, plateau, and mesa that make up the forest will always provide a scenic backdrop and thus a component of the quality of life in the area.
Guides
Rebecca Wildbear, M.S.
Rebecca is a river and soul guide, compassionately helping people tune in to the mysteries that live within the wild Earth community, Dreamtime, and their own wild Nature. She gently ushers people to the underground river of their greater story, so they may surrender to their soul's deepest longing and embrace their sacred gifts, live a life of creative service, and rediscover their deep belonging to the Earth community. A therapist and wilderness guide since 1997, Rebecca utilizes her training and experience with yoga, meditation, Hakomi, and somatic psychotherapy to support individuals in discovering and manifesting their soul gifts. She…
Learn more about Rebecca Wildbear, M.S.
John Lynch, M.A.
John is a university lecturer, where he weaves outdoor and eco-centric experiences into his offerings. He has degrees in outdoor education & leadership, sustainable communities, and ecopsychology. A sower of soulful seeds, John maintains heartfelt support towards fellow seekers negotiating the terrain of possibilities waiting within the field of nature and psyche. In addition to his work at Animas Valley Institute, he has training and certifications in gestalt practices and dialogical processing. John is an avid adventurer of wild places, professional outdoor educator, musician, wilderness guide and local initiator of soulful practices in his northern Arizona community.
Learn more about John Lynch, M.A.