Soulcraft Intensive – June 2023, Canada
June 22 - 26, 2023
With Doug Van Houten and Bruce Howlatt
The Soulcraft Intensive is our popular five-day experiential plunge into the wild depths of Soulcraft; a synergistic set of nature-based practices designed to evoke the life-shifting experience of soul encounter. Your soul is your true self, those qualities that most deeply define and express who you are and the unique gift that you were born to bring to the world, a world so much in need of the socially transforming contributions of initiated, actively engaged adults. To encounter the soul is to discover the mystical image you were born with, which reveals the path to your greatest personal fulfillment as well as the essence of your true service to society (the cross-cultural wisdom traditions say these are one and the same). Soulcraft practices spring from nature-based cultures, modern depth psychology, the poetic tradition, and wilderness rites of passage—to comprise a truly contemporary Western path to soul discovery and soul initiation. For a full discussion, see Bill Plotkin's book Soulcraft: Crossing Into the Mysteries of Nature and Psyche.
The Soulcraft Intensive is highly experiential and—well—intense. We alternate between practices utilized in group, practices explored in solitude in nature, and sharing and deepening those experiences in small groups (5 to 9 people each). There is a Soulcraft guide for each small group, providing you with a fully individualized experience. What you discover through one practice is carried into and amplified by what you learn in the next. By the end of the intensive, you will understand yourself and your place in the world from a more soul-oriented perspective, be clearer about the gifts you were born to bring to the world, and have new skills to enrich your life and to defend the health of the more-than-human world.
Soulcraft practices include:
Soulcentric Dreamwork
Deep Imagery Work with Animal Guides
Talking Across the Species Boundaries
The Way of Council
Soul Tasks in Nature
Self-Designed Ceremony
Shadow Work
Soul Poetry
Sacred Wound Work
Synchronicities: Working with Nature's Signs and Omens
Befriending the Dark
Ecstatic Trance Drumming and Dancing
many others!
Prices shown are in USD and are subject to change if there is significant fluctuation in the US/Canadian dollar exchange rate. Cost includes camping on the grounds. Limited indoor accommodation upgrades are available  – more information will be provided in the prep materials upon registration.
EARTHSPRING SANCTUARY, BRITISH COLUMBIA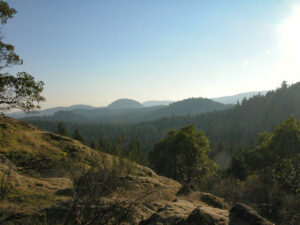 In this quiet area of forests, streams and open hilltops, groups and individuals can find refuge from worldly stresses and opportunities which support the experience of "coming back home to ourselves." We envision the land as a sanctuary. A place of rest and rejuvenation for teachers, seekers, healers, writers and artists, including all those dedicated to spiritual growth and protection of the planet in these times of transition and uncertainty.
Gatherings from multiple traditions will ensure the conservation of the land and its use solely for purposes of spiritual growth and training for those who seek to protect the planet through non-violent methods of education, protest and building sustainable alternatives. The sanctuary, built to connect the heart to the earth is the center for spiritual practice, training and growth.
Guides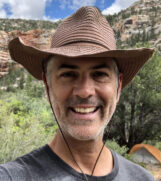 Doug Van Houten
Doug (he/him) draws on the wisdom of the natural world, depth-psychology, eco-psychology, dreams, somatic knowing, poetry, and many pan-cultural, soul furthering practices that includes: The Way of Council, vision fasting, shadow work, symbolic artwork, trance dancing and conversations with the more than human world. Doug's true calling in life is to support others as they uncover their own unique gifts and in so doing, transform their lives in service to what Thomas Berry called "The Great Work" of our times. Doug is also an ardent beekeeper, a visual artist, a wily wanderer, a dream tracker, an emergent ceremonialist, a heart-centered activist, and…
Learn more about Doug Van Houten
Bruce Howlatt
Bruce was pulled towards wildness at a young age and continues to explore the wilderness of psyche, the deep imagination as well as relationship with the more than human. He is dedicated to helping others explore their own authentic nature so as to further cultivate a deeper relationship to Soul and discovery of the unique genius that they alone carry. Bruce is an ACMG/IFMGA Mountain Guide, photographer and general all-around mischief maker.
Learn more about Bruce Howlatt