Soulcraft Intensive, April 2023
April 25 - 29, 2023
With Palika Rewilding and Laura Blakeman, Ph.D.
The Soulcraft Intensive is our popular five-day experiential plunge into the wild depths of Soulcraft; a synergistic set of nature-based practices designed to evoke the life-shifting experience of soul encounter. Your soul is your true self, those qualities that most deeply define and express who you are and the unique gift that you were born to bring to the world, a world so much in need of the socially transforming contributions of initiated, actively engaged adults. To encounter the soul is to discover the mystical image you were born with, which reveals the path to your greatest personal fulfillment as well as the essence of your true service to society (the cross-cultural wisdom traditions say these are one and the same). Soulcraft practices spring from nature-based cultures, modern depth psychology, the poetic tradition, and wilderness rites of passage—to comprise a truly contemporary Western path to soul discovery and soul initiation. For a full discussion, see Bill Plotkin's book Soulcraft: Crossing Into the Mysteries of Nature and Psyche.
The Soulcraft Intensive is highly experiential and—well—intense. We alternate between practices utilized in group, practices explored in solitude in nature, and sharing and deepening those experiences in small groups (5 to 9 people each). There is a Soulcraft guide for each small group, providing you with a fully individualized experience. What you discover through one practice is carried into and amplified by what you learn in the next. By the end of the intensive, you will understand yourself and your place in the world from a more soul-oriented perspective, be clearer about the gifts you were born to bring to the world, and have new skills to enrich your life and to defend the health of the more-than-human world.
Soulcraft practices include:
Soulcentric Dreamwork
Deep Imagery Work with Animal Guides
Talking Across the Species Boundaries
The Way of Council
Soul Tasks in Nature
Self-Designed Ceremony
Shadow Work
Soul Poetry
Sacred Wound Work
Synchronicities: Working with Nature's Signs and Omens
Befriending the Dark
Ecstatic Trance Drumming and Dancing
many others!
PLEASE NOTE: THE SAN JOSE AIRPORT is the closest to this program location. This little known gem of the Los Padres NF is in Monterey County, CA just behind Big Sur, CA. The entrance gate to this location is 2.5 hours from San Jose, CA airport.
Ventana Wilderness, Los Padres National Forest, CA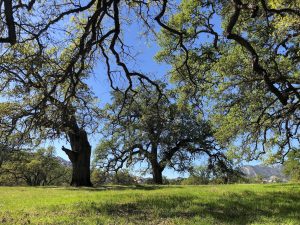 This offering is held at a gorgeous little known iconic California landscape of towering ancient Valley Oak forests and rolling lupine fields is in the Ventana Wilderness foothills behind Big Sur, ancestral and current homelands to the Essalen, Salinan and Ohlone peoples of Central Coast California. Entangle with Mystery and the Web of Life with the diverse beings of Earth's creation: ancient limestone outcroppings and exposed bedrock, golden poppies, lupines, mistletoe, bluebirds, redtail, magpies, wild hare, bobcat, elk, mountain lion, mission blue butterflies and singing creeks, among many others. The closest airport is San Jose, California.
Guides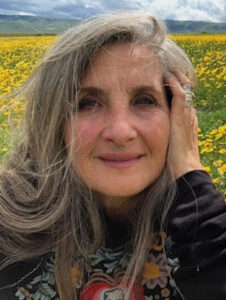 Palika Rewilding
Palika Rewilding has been courting and centering  the mysteries of the moon and the wild miraculous blue green pearl as long as she can remember. As a threshold midwife she listens and tends the edges and holy cracks with fierce love for pearls and shadowed gems within the psyche and hearts of the individual and collective, longing to recover our enchantment with Mystery, and our reciprocity and response ability with the Animate Earth. Passionately committed to the somatic and imaginal, deep structure, the descent into the Underworld, and the way of  beauty; she tends questions that matter, praise, grief and…
Learn more about Palika Rewilding
Laura Blakeman, Ph.D.
Laura Blakeman is a southwest desert-dweller who draws from her unique trans-disciplinary background in the performing arts, and her lifelong study of human flourishing, to invite worldview shift for individuals and collectives across the corporate and cultural sectors. She spent the early part of her life working as a somatic educator, producing dance events, live art immersions, and land-based programs that centered marginalized ways of knowing, doing, and being. Her academic work has bridged integral, developmental, and eco-depth psychology, complexity and systems theory, and transformative learning. Her doctoral thesis explored beauty as a catalyst for change. She is a co-founder…
Learn more about Laura Blakeman, Ph.D.