Soulcraft Intensive – August 2023, South Africa
August 3 - 7, 2023
With Brian Stafford, MD, MPH
Please contact our Program Producers in South Africa for more information at: [email protected]
This is the first time this program will be offered on the African Continent.
The Soulcraft Intensive is our popular five-day experiential plunge into the wild depths of Soulcraft; a synergistic set of nature-based practices designed to evoke the life-shifting experience of soul encounter. Your soul is your true self, those qualities that most deeply define and express who you are and the unique gift that you were born to bring to the world, a world so much in need of the socially transforming contributions of initiated, actively engaged adults. To encounter the soul is to discover the mystical image you were born with, which reveals the path to your greatest personal fulfillment as well as the essence of your true service to society (the cross-cultural wisdom traditions say these are one and the same). Soulcraft practices spring from nature-based cultures, modern depth psychology, the poetic tradition, and wilderness rites of passage—to comprise a truly contemporary Western path to soul discovery and soul initiation. For a full discussion, see Bill Plotkin's book Soulcraft: Crossing Into the Mysteries of Nature and Psyche.
The Soulcraft Intensive is highly experiential and—well—intense. We alternate between practices utilized in group, practices explored in solitude in nature, and sharing and deepening those experiences in small groups (5 to 9 people each). There is a Soulcraft guide for each small group, providing you with a fully individualized experience. What you discover through one practice is carried into and amplified by what you learn in the next. By the end of the intensive, you will understand yourself and your place in the world from a more soul-oriented perspective, be clearer about the gifts you were born to bring to the world, and have new skills to enrich your life and to defend the health of the more-than-human world.
Soulcraft practices include:
Soulcentric Dreamwork
Deep Imagery Work with Animal Guides
Talking Across the Species Boundaries
The Way of Council
Soul Tasks in Nature
Self-Designed Ceremony
Shadow Work
Soul Poetry
Sacred Wound Work
Synchronicities: Working with Nature's Signs and Omens
Befriending the Dark
Ecstatic Trance Drumming and Dancing
many others!
Please contact our Program Producers in South Africa for more information at: [email protected]
LESHIBA WILDERNESS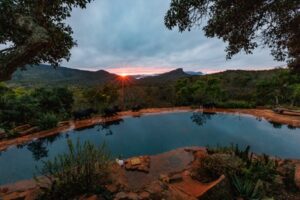 Leshiba Wilderness – 'Take a walk on the wild side'
In the northernmost part of South Africa, the Soutpansberg mountain range stands alone. One of the most unique and critically biodiverse habitats in Southern Africa. Leshiba Wilderness lies on the plateaus of this extraordinary mountain.
Leshiba is a private, family-run wildlife reserve. It is a remote, untamed wilderness comprised of a network of valleys, gorges, waterlines, grassy plains, ancient Bushmen Rock Art sites and an extraordinary abundance of fauna and flora. Climb above the clouds and discover this magical mountaintop reserve where you have the freedom to explore, unwind, reconnect and rewild.
As one of the 19 centers of floristic endemism in Southern Africa there is a pressing need to conserve and properly manage the Soutpansberg's unique and irreplaceable biodiversity. Leshiba Wilderness is a founding member of the UNESCO Vhembe Biosphere Reserve and works closely with the Endangered Wildlife Trust to conserve and protect habitat and endangered species. Leshiba is Fair Trade accredited.
Leshiba is dedicated to conserving several endangered and protected species including leopard, Red Duiker, Cycads, Aloes, Mountain Reedbuck, Taita Falcons and even a couple of species that require strict secrecy for their safety.
Explore Leshiba: https://www.leshiba.co.za/
Luxury accommodation at The Farmhouse – ZAR 20,000 – This recently renovated luxury villa blends seamlessly into the mountainside,  surrounded by indigenous gardens and incredible views.
With contemporary furnishings and eclectic touches throughout, The Farmhouse sleeps 12 sharing in 6 en-suite bedrooms.
The Farmhouse is fully solar powered and off the grid.
Luxury accommodation at The Venda Art Lodge – ZAR 18,000 (sold out)
Basic accommodation at Luvhondo Bush Camp – ZAR 15,000 – Luvhondo has been designed as a traditional African homestead and is located adjacent to the spectacular, panoramic edge of the escarpment. It is the most basic of our accommodation offerings, consisting of four individual rondavels with two shared ablution rondavels
Explore Leshiba Wilderness's accommodation options here.
Guide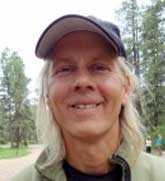 Brian Stafford, MD, MPH
Brian Stafford is a guide to the wilderness of nature, wildness, and soul. Called out of academic medicine to serve as a guide to the depths and to serve as an agent of cultural awakening and transformation, he guides with humor, playfulness, fierceness, compassion, discernment, and a deep remembering of the fullness of what each human life can, should, and was meant to be. A native of Colorado and the former holder of an endowed chair and professor of psychiatry and pediatrics, he is currently a guide, Board Member, and Training Director of the Wild Mind Training Program at Animas. He…
Learn more about Brian Stafford, MD, MPH