Wild Mind Shadow Training – February, 2024
February 5 - 10, 2024
With Gene Dilworth, M.A. and Laura Gunion
Participants in the Wild Mind Training Program, who have taken Sweet Darkness, are free to register (please contact [email protected]). We welcome others who are interested to apply.
The Shadow is the hidden side of our psyches, with both its "positive" and "negative" aspects. The Shadow helps ensure our survival by keeping the lid on elements of our psyche – both negative and positive – that feel dangerous or unacceptable to our ego. But it can also impede our blossoming by keeping that lid on too tight or too long. Many of the psychological resources we need in order to co-create more fulfilling relationships are impounded in the dungeon of our psyche.
The Shadow is not what we know about ourselves and don't like (and perhaps keep hidden) but, rather, what is true about us but know absolutely nothing about … and would vehemently deny if "accused."
Wild Mind Shadow Work is the intentional process of consciously reclaiming and creatively embodying the essential qualities and powers of those parts of our psyche that we previously kept hidden – even from ourselves.
During this training, we'll learn and practice shadow work techniques for supporting others in developing their full human potential through cultivating their innate wholeness. The following areas will be explored:
The Shadow: learning strategies for spotting, unmasking, and assimilating the dark shapes of Shadow
Projections and transferences: recognizing and withdrawing projections while reclaiming disowned qualities and parts of ourselves.
Loyal soldiers: working with the subpersonalities that have been keeping us "safe" since early childhood by keeping us small
Wounding and vulnerability: exploring the patterns that keep us stuck in the Old Story, considering the myths through which we have been living, and inviting a different myth or world view to emerge.
Overpowering emotional charges triggered by other people and by encounters in the natural world
Working in dyads, triads, and full group, we will practice guiding by working with Shadow elements that emerge between us in the training group, in our dreams, in our lives more generally, and while wandering on the land and interacting with the Others. We'll hone our skills by serving as guides for each other, and through discussion, feedback, and suggestions.
This training is designed primarily for participants in the Animas Wild Mind Training Program, but is also open (by application) to professional human development guides or advanced students working in fields such as psychotherapy, rites of passage, education, coaching, ecotherapy, counseling, and outdoor or wilderness education.  We strongly recommend participation in Sweet Darkness or similar personal shadow work experience prior to this training.
ARAVAIPA CANYON RANCH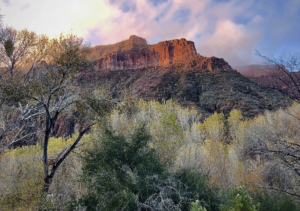 Nestled at the foot of Brandenburg Mountain, Aravaipa Canyon Ranch invites you to a quiet getaway for reflection, healing and spiritual renewal. Miles of secluded, ever-changing terrain in the midst of natural, pristine beauty unfold to the accompaniment of the singing waters of Aravaipa Creek, one of Arizona's all-year-round streams. For more information, go to http://www.aravaiparanch.com/
Guides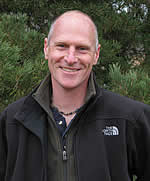 Gene Dilworth, M.A.
Gene Dilworth is dedicated to the project of rewilding the human spirit as an essential dimension of being fully human in these times. By nurturing meaningful relationships with the more-than-human world and facilitating deep inquiry into the mysterious depths of one's true nature, he supports individuals to discover, re-member and live from the center of their soul-rooted sense of belonging to the world. Gene has been guiding groups and individuals in transformative nature-based experiences since 1986. He has taught ecopsychology and environmental studies at the university level, and has served as an academic administrator and other leadership roles in a…
Learn more about Gene Dilworth, M.A.
Laura Gunion
Laura believes that humans have tremendous potential, much of it hidden and unconscious. As a mentor, wilderness guide and naturalist, it is both her privilege and responsibility to support others as they encounter their true nature. She feels it's essential that we grow, not only for ourselves, but also to create cultures that will benefit future generations. She insists on bringing the soulful and sacred into daily living. Her curiosity, acute listening, and precise questioning support people in living boldly and courageously. Laura has been a mentor at Wilderness Awareness School since 2002, and continues to love instructing at their…
Learn more about Laura Gunion