Soulcraft Musings Inaugural Introduction
Today, January 20, 2017, we inaugurate Soulcraft Musings, a new offering from Animas Valley Institute (see below). This is the same day America inaugurates a new president, a cultural upheaval currently mobilizing thousands of response teams worldwide. On this day we commence our humble project of Soulcraft Musings in support of the deepening, diversification, and flourishing of all life. At this time in the world, may we all inaugurate actions and projects that collectively give birth to a life-enhancing society.
The journey of descent to soul has largely been forgotten in mainstream culture, but there is nothing more essential in the world today. The experiential encounter with soul is the key element in the initiatory journey that culminates in true adulthood. And true adults — visionary artisans — are the generators of the most creative and effective actions in defense of all life and in the renaissance and evolution of generative human cultures.
The encounter with soul is not a weekend workshop but an unfolding journey over many months or years. Harvesting its fruit and feeding the world with its bounty plays out over the rest of one's life. Every day holds opportunities for each of us to prepare for the journey to the underworld of soul, or, once we have embarked upon the journey, to take our next steps, or to gather its mystical treasures and hone them into practical shapes, or to fashion never-before-seen delivery systems for carrying these gifts to the Earth community.
We, at Animas Valley Institute, would like to gift you with this weekly email of trail markers (cairns) on the journey to soul. These Soulcraft Musings, although each only a couple minutes of reading, will be, we trust, valuable guidelines and support on your journey. Each includes references for further reading, study, and practice. And each features a resonant image and poem.
The central theme that ties together all the Musings is, of course, soul and the human encounter with soul. But even the original depth meaning of the word soul has been lost to the modern mind. What we at Animas mean when we speak or write about soul is not what you'll find in contemporary religious, spiritual, philosophical, or psychological traditions or in everyday conversation. We'll explore these and many other fundamentals and principles in Soulcraft Musings.
If you're already on our list, you'll receive an email with a Soulcraft Musing once a week. If you're not on our list and would like to subscribe, please click here.
And please feel free to share Soulcraft Musings widely with friends, family, and colleagues.
In wildness and wonder,
Bill Plotkin
Founder
Animas Valley Institute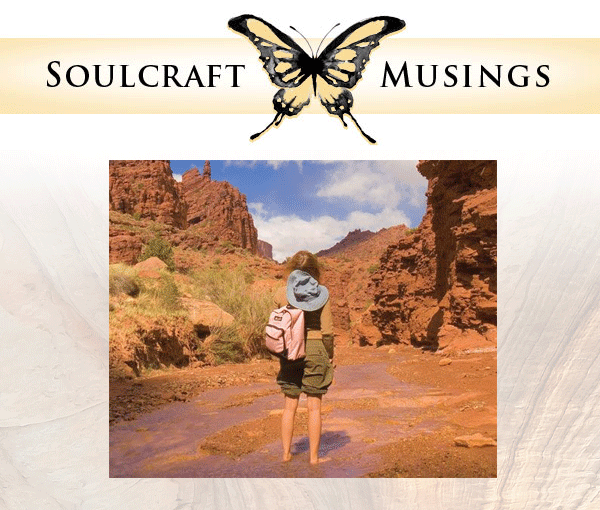 This is the third part of a four-part Musing (one per week).
 Becoming Fully Human 
Friday, February 17, 2017
 We now behold the possibility of a radical and foundational shift in human culture — from a suicidal, life-destroying element to a way of life worthy of our unique human potential and of Earth's dream for itself. What lies before us is the opportunity and imperative for a thorough cultural transformation — what ecophilosopher Joanna Macy calls the Great Turning, the transition from an egocentric "Industrial Growth Society" to a soulcentric "Life-sustaining Society." [1]
Joanna Macy and Molly Young Brown explain that the Great Turning is happening simultaneously in three areas or dimensions that are mutually reinforcing and equally necessary. They identify these as
"holding actions" to slow the damage to Earth and its beings;
analysis of structural causes and the creation of alternative institutions; and
a fundamental shift in worldview and values. [2]
The primary focus of our work at Animas is on the third dimension of the Great Turning, which Joanna and Molly deem "the most basic." [3] They note that, in order to take root and survive, the alternative institutions created as part of the second dimension must be sourced in a worldview profoundly different from the one that created the industrial growth society. They see such a shift in human consciousness emerging in the grief that so many of us are feeling for a plundered world; in our new understandings from ecology, physics, ecopsychology, and other fields about what it means to be human on an animate planet; and in our deepening embrace of the mystical traditions of both indigenous and Western peoples.
The Soulcentric Wheel of Life provides a means to support and quicken this foundational shift in worldview and values; it offers a set of guidelines for actualizing our greater human potential . . . But I do not mean something implausible or fanciful. I mean what simply amounts to growing up. Rather than become something other-than-human or superhuman, we are summoned to become fully human. We must mature into people who are, first and foremost, citizens of Earth and residents of the universe, and our identity and core values must be recast accordingly. This kind of maturation entails a quantum leap beyond the stage of development in which the majority of people live today. And yet we must begin now to engender the future human.
Consequently, the question of individual human development becomes critical. How can we grow whole so that an ecocentric identity becomes the rule rather than the exception? How can we foster a global ecological citizenry? . . .
The human life cycle is best understood as a story. The Wheel tells a story, in eight acts, of becoming fully human, and it offers a map for reaching that destination. It is at once a model of how human development would unfold in a modern, soulcentric, life-sustaining society — a hypothetical one — and of how it can and does unfold now in our existing egocentric society when there is sufficient support from soul-centered parents, teachers, extended family networks, schools, religious organizations, and social programs.
The Wheel is ecocentric in that it models individual human development from the perspective of nature's cycles, rhythms, and patterns . . . The Wheel is also soulcentric, in two ways. First, it shows how soul attempts to guide our individual development. Second, it envisions the principal goal of maturation to be the conscious discovery and embodiment of our souls. …
Given that the human soul is the very core of our human nature, we might note that, when we are guided by soul, we are guided by nature. Both soul and greater nature do guide us in our individual development, whether or not we ask for this guidance. But if we know how to listen, we can benefit much more. Living in an adolescent culture does not banish us from soulcentric development. The assistance of nature and soul is always and everywhere available. In our own society, a large minority of people develop soulcentrically despite the cultural obstacles. The soul faithfully comes to our aid through dreams, deep emotion, love, the quiet voice of guidance, synchronicities, revelations, hunches, and visions, and at times through illness, nightmares, and terrors.
Nature, too, supports our personal blossoming (if we have any quiet exposure to her) through her spontaneities, through her beauty, power, and mirroring, through her dazzling variety of species and habitats, and by way of the wind, Moon, Sun, stars, and galaxies.
The eight developmental stages together constitute a single story, the story of a deeply fulfilling but nevertheless entirely human life. The story the Wheel tells is very different from the one that most contemporary people live . . .
For parts 1 and 2, and other past Musings
For Further Reading, Study, and/or Practice
See "A Short Introduction to the Eco-Soulcentric Developmental Wheel: Stages of Life, Rites of Passage, and Cultural Transformation".
References
[1] Macy and Molly Young Brown, Coming Back to Life: Practices to Reconnect Our Lives, Our World (Gabriola Island, British Columbia: New Society Publishers, 1998)
[2] Macy and Brown, Coming Back to Life, pp. 17-24.
[3] Ibid., p. 21.
Adapted from
Nature and the Human Soul: Cultivating Wholeness and Community in a Fragmented World
(New World Library, 2008).