Soulcraft Musings Inaugural Introduction
Today, January 20, 2017, we inaugurate Soulcraft Musings, a new offering from Animas Valley Institute (see below). This is the same day America inaugurates a new president, a cultural upheaval currently mobilizing thousands of response teams worldwide. On this day we commence our humble project of Soulcraft Musings in support of the deepening, diversification, and flourishing of all life. At this time in the world, may we all inaugurate actions and projects that collectively give birth to a life-enhancing society.
The journey of descent to soul has largely been forgotten in mainstream culture, but there is nothing more essential in the world today. The experiential encounter with soul is the key element in the initiatory journey that culminates in true adulthood. And true adults — visionary artisans — are the generators of the most creative and effective actions in defense of all life and in the renaissance and evolution of generative human cultures.
The encounter with soul is not a weekend workshop but an unfolding journey over many months or years. Harvesting its fruit and feeding the world with its bounty plays out over the rest of one's life. Every day holds opportunities for each of us to prepare for the journey to the underworld of soul, or, once we have embarked upon the journey, to take our next steps, or to gather its mystical treasures and hone them into practical shapes, or to fashion never-before-seen delivery systems for carrying these gifts to the Earth community.
We, at Animas Valley Institute, would like to gift you with this weekly email of trail markers (cairns) on the journey to soul. These Soulcraft Musings, although each only a couple minutes of reading, will be, we trust, valuable guidelines and support on your journey. Each includes references for further reading, study, and practice. And each features a resonant image and poem.
The central theme that ties together all the Musings is, of course, soul and the human encounter with soul. But even the original depth meaning of the word soul has been lost to the modern mind. What we at Animas mean when we speak or write about soul is not what you'll find in contemporary religious, spiritual, philosophical, or psychological traditions or in everyday conversation. We'll explore these and many other fundamentals and principles in Soulcraft Musings.
If you're already on our list, you'll receive an email with a Soulcraft Musing once a week. If you're not on our list and would like to subscribe, please click here.
And please feel free to share Soulcraft Musings widely with friends, family, and colleagues.
In wildness and wonder,
Bill Plotkin
Founder
Animas Valley Institute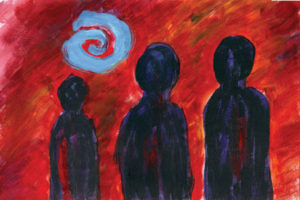 Creating a Mature Culture
(A Three-Part Musing)
Global Culture Change  
This is the first part of a three-part Musings (one per week).
Friday, March 24, 2017
 Most everyone reading this knows by now that global climate change, resulting from greenhouse gas-induced global warming, is one of the most immediate threats and challenges we face at this time. But the primary difficulty in responding to this crisis (and others) is not technological. The knowledge and means already exist to reverse the still-escalating increases in greenhouse gas emissions. What we are lacking is the political and social will to do it. Reversing global warming requires a transformation in the values and lifestyles of all industrialized societies, a shift from patho-adolescent consuming to mature, ecocentric communing — or, said in another way, from egocentric to soulcentric society. The Soulcentric Developmental Wheel suggests the fundamental elements of a deep cultural therapy. [1] It is a design tool for creating healthy human communities and life-sustaining societies.
What underlies the crisis of global climate change is a deeper crisis we might call global culture change, which significantly predates our current climate crisis. While anthropogenic climate change began only two centuries ago, cultural decay has been in process for at least five thousand years. Global warming is the result of a millennia-old unfolding in which our human cultures have become increasingly egocentric and pathological — that is, increasingly alienated from nature and soul.
It seems reasonable, then, to suggest that global culture change is our bigger and most immediate crisis — and opportunity. It is the greater context within which global climate change and our other contemporary crises have been spawned. We must redesign all our major cultural institutions — education, governments, economies, and religions — to be in partnership with Earth systems. We must learn to raise all children and teens in alignment with nature and natural cycles. In particular, we must preserve the innocence of early childhood; we must refashion middle childhood as a time of wonder and free play in the natural world; we must assist young teens to be as authentic and creative as they can, with themselves and others. And we must engender full societal support for late teens (and for the majority of middle-aged people who missed this opportunity in their youth) as they explore and are transformed by the mysteries of nature and psyche. And we must do this for all people, in all socioeconomic classes, in all societies.
Is this possible? No. But let's not let that stop us. In the next Musing, we'll explore the art of impossible dreaming.
Adapted from Bill Plotkin, Nature and the Human Soul: Cultivating Wholeness and Community in a Fragmented World (New World Library, 2008)
Want to read past Musings?