Soulcentric Dreamwork Intensive – February, 2023
February 9 - 13, 2023
With Doug Van Houten and Rebecca Wildbear, M.S.
Soulcentric Dreamwork: The Secret Alchemy of the Nightworld
The soul yearns to dream itself into the world. Every dream emerges from the mystery of the soul and is an opportunity for our conscious self, our ego, to be further initiated into the secret stream of our deeper life.
On this 5-day immersion, you'll learn what it's like to enter dreams as mysteries; to boldly and vulnerably interact with its denizens and dreamscapes; to be moved by the deep intelligence of its living images; to open to non-ordinary ways of perceiving; and to experience the underdream of your everyday waking life.
Soul speaks through images, including those that comprise dreams. While most modern forms of dreamwork focus on interpretation and analysis, soulcentric dreamwork invites us to do something radically different — to fully surrender to the experience the dream wants us to have, however strange it may be. A soulcentric approach holds every dream as an embodied invitation to our unfolding soul story.
In this intensive, we'll wander slowly in the disturbing splendor of the nightworld's rich symbols, images, and emotions. We'll courageously commit to an extended stay in the soul's mysterious domain, permitting the dream to do its formidable work on the ego. Instead of trying to figure out the meaning of the dream, we'll submit ourselves to its atmospheres, landscapes, and characters.
Earth is always dreaming and inviting us to dive into our own dreamstream. The inner wilds of dreams and the outer wilderness of the world are two of the most potent guides to soul. Unlike any other Western form of dreamwork, we'll enter both wildernesses at the same time, amplifying the initiatory effects of both. We'll apprentice ourselves to the mystery held within our dreams while approaching the animate world as if it is listening and wanting to participate. We'll re-enter our dreams while deepening our conversation with the other-than-human world.
Through a variety of modalities — including direct dialogue with the dream itself, expressive arts and movement, deep imagery, and wandering on the land with (and in) our dreams — we'll explore how our dreams want to shift us, what doors they want to open, what underworld thresholds they want to usher us over.
Join us and deepen into your dreams and your unfolding soul story!
There is an opening downward within each moment, an unconscious reverberation, like the thin thread of the dream that we awaken with in our hands each morning leading back and down into the images of the dark. – James Hillman, The Dream and the Underworld
ARAVAIPA CANYON RANCH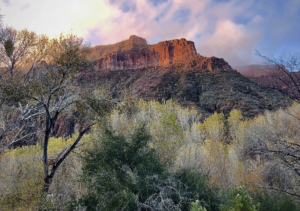 Nestled at the foot of Brandenburg Mountain, Aravaipa Canyon Ranch invites you to a quiet getaway for reflection, healing and spiritual renewal. Miles of secluded, ever-changing terrain in the midst of natural, pristine beauty unfold to the accompaniment of the singing waters of Aravaipa Creek, one of Arizona's all-year-round streams. For more information, go to http://www.aravaiparanch.com/
Guides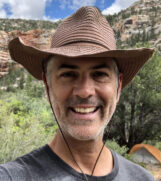 Doug Van Houten
Doug draws on the wisdom of the natural world, depth-psychology, eco-psychology, dreams, somatic knowing, poetry, and many pan-cultural, soul furthering practices that includes: The Way of Council, vision fasting, shadow work, symbolic artwork, trance dancing and conversations with the more than human world. Doug's true calling in life is to support others as they uncover their own unique gifts and in so doing, transform their lives in service to what Thomas Berry called "The Great Work" of our times. Doug is also an ardent beekeeper, a visual artist, a wily wanderer, a dream tracker, an emergent ceremonialist, a heart-centered activist, and a…
Learn more about Doug Van Houten
Rebecca Wildbear, M.S.
Rebecca is a river and soul guide, compassionately helping people tune in to the mysteries that live within the wild Earth community, Dreamtime, and their own wild Nature. She gently ushers people to the underground river of their greater story, so they may surrender to their soul's deepest longing and embrace their sacred gifts, live a life of creative service, and rediscover their deep belonging to the Earth community. A therapist and wilderness guide since 1997, Rebecca utilizes her training and experience with yoga, meditation, Hakomi, and somatic psychotherapy to support individuals in discovering and manifesting their soul gifts. She…
Learn more about Rebecca Wildbear, M.S.