Wild Mind Mirroring Training – February, 2023
February 22 - 26, 2023
With Brian Stafford, MD, MPH and Laura Gunion
In the Wild Mind Mirroring Training, we practice detecting the greater story that pulses beneath the events of a person's life. By immersing ourselves in the practice of deep listening and mirroring, we uncover the archetypal themes that might frame a per-son's experience within the arc of their destiny.
When our story is compassionately reflected through the skilled mirroring of anoth-er, we feel fully heard and able to experience ourselves in a larger and more meaningful context; we're enabled to catch up to ourselves and perhaps leap into the next phase of our journey of individuation. An alchemical exchange occurs between the teller and the listener, an exchange that is magical and priceless.
In this mirroring training, we'll work with themes such as self-healing, psychospiritual death and rebirth, courting the Beloved, romancing the world, fear personas, subper-sonalities, anima and animus, the four facets of the Self, the eco-soulcentric stages of development, other-than-human allies, underworld encounters, mythic threads, and archetypal symbols and themes. We'll study several principles and their application, including how mirroring is different from projection, transference, and interpretation; how analyzing is different from loving; how to recognize the gestalt of people's life stories; pattern recognition; framing; and amplifying the storyteller's feelings.
We'll witness how the art of mirroring catalyzes each person into the depth of their unique way of belonging to the world. Trainees will practice deep listening to self, others, and the group field and, by the end of the program, will more fully understand their gifts and potentials as a mirrorer and how to manifest those gifts in service to others.
This program is designed and primarily intended for trainees in Animas' Wild Mind Training Program, but other guides and human development facilitators are warmly invited to apply. Trainees need not apply, and are also encouraged to participate in the Way of Council and Mirroring Intensive before this training.
We invite participants to arrive at the Lake Casitas campground the evening before we commence (February 21st) to get settled.
TAFT GARDENS, OJAI, CALIFORNIA
With maintained paths and seating areas, the 15 acres of curated gardens inspires visitors to learn about the majesty of nature and it's complexities. Hand painted botanical tiles mark the path of the Docent Guided tour through the South African and Australian Gardens. Sculptures adorn the garden with curated art pieces inspiring each visitor to explore the connection between themselves and their environment.
Guides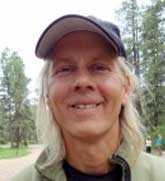 Brian Stafford, MD, MPH
Brian Stafford is a guide to the wilderness of nature and soul. He was called out of academic medicine to serve as a guide to the depths and to serve as an agent of cultural awakening and transformation. He guides with humor, playfulness, compassion, discernment, and a deep remembering of the fullness of what each human life can, should, and was meant to be. A native of Colorado and the former holder of an endowed chair and professor of psychiatry and pediatrics, he is an avid outdoorsman, teacher, writer, mentor, partner, and parent. He guides individuals and groups in the…
Learn more about Brian Stafford, MD, MPH
Laura Gunion
Laura believes that humans have tremendous potential, much of it hidden and unconscious. As a mentor, wilderness guide and naturalist, it is both her privilege and responsibility to support others as they encounter their true nature. She feels it's essential that we grow, not only for ourselves, but also to create cultures that will benefit future generations. She insists on bringing the soulful and sacred into daily living. Her curiosity, acute listening, and precise questioning support people in living boldly and courageously. Laura has been a mentor at Wilderness Awareness School since 2002, and continues to love instructing at their…
Learn more about Laura Gunion