Awakening Noospheric Imagination: Experiential Cosmology, Earth Community, and the Human Soul – June, 2023
June 29 - July 3, 2023
With Geneen Marie Haugen, Ph.D. and Special Guest Guide, Brian Thomas Swimme, Ph.D.
The application deadline for this immersion has passed and the program is full. If you would like to still apply, please do so, and the guides will review your application if a cancellation occurs.
Whoa, what title would be mysteriously open enough for this never-before-seen Animas immersion featuring evolutionary cosmologist, Brian Thomas Swimme, who graciously said "yes" to the invitation from me, writer and guide Geneen Marie Haugen?  In addition to his recent book Cosmogenesis, Brian has been exploring the implications of the noosphere – or what theologian-paleontologist Teilhard de Chardin identified as the "thinking envelope" or mind-sphere of Earth; my abiding fascination has been with the world-shifting potential of the human imagination allied with the planetary psyche.  Brian and I will be weaving our perceptions and offering practices that lean toward experiential cosmology.
As our civilization careens into an unknown future shaped largely by human beings, we will need a new compass, new possibilities or worldviews, to help find our way.  And perhaps we'll need new questions to guide us.  Questions, for example, like:  What if we human beings are not only unique, soul-infused individuals and participants in the planetary community, but are also necessary, creative participants in the larger, unfolding universe?  Brian writes, "Each era of the universe is unique, never to be repeated.  It's as if at dawn a deep and resonant voice calls forth to every entity in existence, 'Become your unique self. The universe advances only if you blossom forth as you.'"
If you are asking big questions about deep time, or the unfolding cosmos and our participation in it, consider joining us for this immersion.  In addition to spontaneous emergences, we will engage with ceremony, deep conversation, solo wandering, Earth-tending, big ideas, poetic expression, thought experiments, and experiential practices that may further disclose or shape the "unique self" that is a vital offering to both the Earth community and to the cosmic unfolding.
We will be camped on private land beside a wild river in the foothills of the North Cascades.  This gathering will be cozy, with close-in (rather than far-reaching) wandering, intended to cultivate intimacy with place and community with each other.
As Brian says at the end of his introduction to the Noosphere film series, "If you have an intuition that your life's meaning involves working with the emergence of a planetary mind, join us." 
Applications for this offering are due May 5th. 
TEMPLE OF THE HOLY EARTH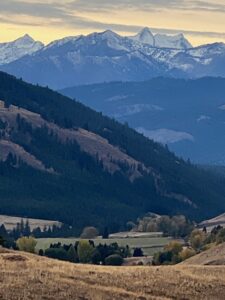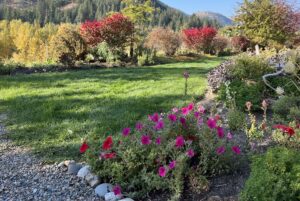 We will be camped in northcentral Washington on private land at an altitude of 1700 feet beside a wild river in a deep canyon in the foothills of the North Cascade Mountains. With the help of dedicated human beings, salmon are returning to this river. In July, it's likely the mock orange will be blossoming and wafting their seductive scent. Perhaps osprey will startle us as they dive for fish. Or maybe we'll hear the song of the Varied Thrush. We'll wander through the riparian zone of aspens, cottonwoods, and ponderosas, and up through whimsical rock formations on the dry shrub-steppe south-facing slopes of the canyon. We'll be in the company of bald and golden eagles, black bears, salmon, and deer, and many others not often seen but known to be in the neighborhood, including mountain lions, wolves, and moose.
Guide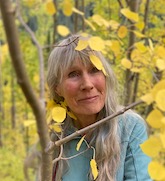 Geneen Marie Haugen, Ph.D.
Geneen Marie Haugen, PhD, grew up a little wild, with a run amok imagination, and has lived at the wild edge for most of her life.  Once upon a time, she was a whitewater river guide and a tipi dweller who loved knowing that only thin canvas separated her from the the world.  In her wild wanderings, she's been amazed to have had dozens or maybe hundreds of close encounters with creatures such as moose, elk, grizzlies, wolves, black bears, cougars, bison, and more. For her, the sulpher-scented hot springs of Yellowstone smell like home.  Her matrilineal ancestors are the indigenous…
Learn more about Geneen Marie Haugen, Ph.D.