Courting the Muse-Beloved – June, 2022
June 24 - 28, 2022
With Rebecca Wildbear, M.S.
COURTING THE MUSE-BELOVED
I would love to kiss you. The price of kissing is your life.
—Rumi
The natural world is a mysterious and alluring love dance. Wind dances with trees, snowflakes kiss the grass, thunderstorms roar, and lightning brightens the sky—everything is courting everything! What endless and unique wonders of this world are romancing you?
By opening our wild heart, we too can fall in love with anything—an idea, the ocean, a human, or a tree. As with any love affair, we risk turning our entire world upside down to be plunged into both ecstasy and devastation. In this rocky place, we are opened up and made profoundly vulnerable, sometimes shaken to our very core, and the story that we've been living begins to crumble. It is here that we begin to ask finer, deeper questions about who we are in our depths. These new questions bring an end to our smaller story; from this romance, something new emerges and our deepest creativity awakens.
Our Inner Beloved may plunge us into disturbing and magical waters of transformation, just as our outer beloved relationships do. The Inner Beloved, the unknown half of our psyche which Jungians refer to as the anima or animas, is that which we encounter in dreams, visions, images, nature, or the attractive/repulsive qualities we project onto others. The qualities we project are often the ones our ego most needs to experience its full aliveness.
The Inner Beloved, our own guide to soul, wants us to die to our old ways so that our never-before-seen gifts may be offered in service to the world. A descent to soul enables us to cultivate our innate visionary skills, respond creatively to the dangerous challenges of our world in these times of planetary crisis, and achieve real change. We're invited to become an open vessel—vulnerable enough to receive the great longings and desires destined in our souls and in the soul of the world, the anima mundi.
Each person has a unique song, poem, genius, or other soul-infused form of expression. Our muse is the wellspring of our creativity and vision, ushering us toward what's most worth doing in life. It is our unique way of looking at things. Our soul, or mythopoetic identity, is an indispensable guide to fulfilling our purpose. Our muse partners with soul to inspire how our gifts manifest in the world.
Courting the Inner Muse-Beloved is a wild invitation to the romance of your life. Immersed in the wilds of nature, we'll approach the practice of courting through ceremony, conversations with the more-than-human others, deep imagination, council, dreamwork, wild yoga/body movement, trance/drumming and dancing, and soul art. We'll partner with the imagination of Earth and explore what it is to create within this inherent co-creative relationship.
While working with our Inner Beloveds, we'll remember the beauty and horrors of past and present attractions, the delicious and ugly shadows evoked. We will honor our outer beloveds while reclaiming the resources at the heart of these shadow projections, for the purpose of our soul's work.
In the loving yet harsh embrace of the Rocky Mountain high country, we will explore the relationship between ego and soul, mystery and manifestation, self and world. We will invite ego to become the handmaiden of soul, so it may live to embody and serve the vision of Earth and soul.
Learn practical approaches for cultivating an ongoing relationship with Muse while birthing your own gifts and expression into the world. Experience how listening to the Muse informs your unique artistic expression and service to the world.
BELL MEADOW FARM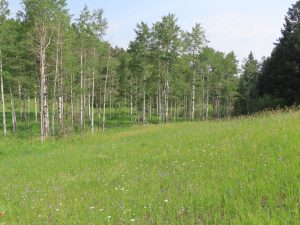 Bell Meadow Farm comprises 480 acres of traditional Ute territory which was homesteaded in 1878 by the Kruetzer family. Their son was born on this land and became the first Forest Ranger in the United States. With this history, the land has been designated a Douglas County Historic Landmark. The land is surrounded by the Pike National Forest and is part of the headwaters of Indian Creek. It is protected by a conservation easement and hosts beautiful Aspen groves and conifer forests with multiple boulder formations of spiritual significance. Multiple herds of elk who are attracted to the wallows in the meadows. The land is also home to a colony of prairie dogs who were rescued from a development site in Castle Rock. Many other species also call this place home including bobcats, golden eagles, coyotes, hawks, owls and other rodents.
Guide
Rebecca Wildbear, M.S.
Rebecca is a river and soul guide, compassionately helping people tune in to the mysteries that live within the wild Earth community, Dreamtime, and their own wild Nature. She gently ushers people to the underground river of their greater story, so they may surrender to their soul's deepest longing and embrace their sacred gifts, live a life of creative service, and rediscover their deep belonging to the Earth community. A therapist and wilderness guide since 1997, Rebecca utilizes her training and experience with yoga, meditation, Hakomi, and somatic psychotherapy to support individuals in discovering and manifesting their soul gifts. She…
Learn more about Rebecca Wildbear, M.S.